(I'll be sure to post some pictures when it's finished *ponts to icon* it's that character that i'm making... isn't she cute?!?!?)
How tall do you have to be to be a tall fursuiter? the suit that i'm currently working on will make me about 7'5" (I like the idea of having to duck to go under doors)....but in person I'm an unimpressive 5'8"....
Current Mood:

contemplative

Current Music:

where is the love?-The Black Eyed Peas


But, with winter coming, it also means that cons have passed! And I've gone to a few cons since I've last posted here. I /think/ the the con I posted here last was FC! After that I've been to Califur, Anthrocon, and Rainfurrest! There were a ton of tall fursuiters there; but I'm not sure that they were within this group. I mean, I personally know someone that puts my height to shame. He's gotta be like... 7'somethin' in suit and it just makes me feel short. XD Which is hard to do!

But, anyway. What do ya'll think of the FC shoot thing?
And what's around the corner after that? Further Confusion! :D I know that this a very early notice of it, or something of the sort. But, I was wondering if anyone was going to be there; and if so. Maybe we should get a Tall Fursuiter's photo or something? Just to be silly or something like that.
6'7" 235 lbs of corn-fed Nebraska height.
Countersnap with BushyCat
and Marf with 5'8" Dibbun
www.snapEtiger.com
YIM: snapEtiger
Snap E Tiger here.
Anyways, pics I guess? xD
(
Read more...
Collapse
)
All that I'll say is it's nice to finally have a fursuit. X3
I'm not sure if I count as a tall fursuiter, since I'm only 6' tall... But in suit I ain't tiny, so I guess that counts? :3
monthly bowling meet
, a few of us suited up to make a birthday presentation. In the middle of it low and behold Xavier himself shows up in his new Scribble suit! Here's a pic for you tall suit lovers. To my right is Brownee Bear. Pic snapped by
4tb
Hey guys, I know its been a while for me, but Ive been so busy lately with everything. Anyway, after a successful debut at AC, and back home from FAU, I finally have some pics of my suit Niko. At the diner our local group goes to after the
Here is my standing in a standard doorway for reference. With the suit on and wearing shoes(not in this picture) I am about 6'11" and about 6'7" out of costume
(
Click for more pics
Collapse
)
The suit was made by
klickitat_bear
,
matrices
and to a much lesser extent Myself.
So, I joined this community a few months ago mostly to see how other people cope with being tall and being a fursuiter. Now I have a fursuit of my own to be way too tall in.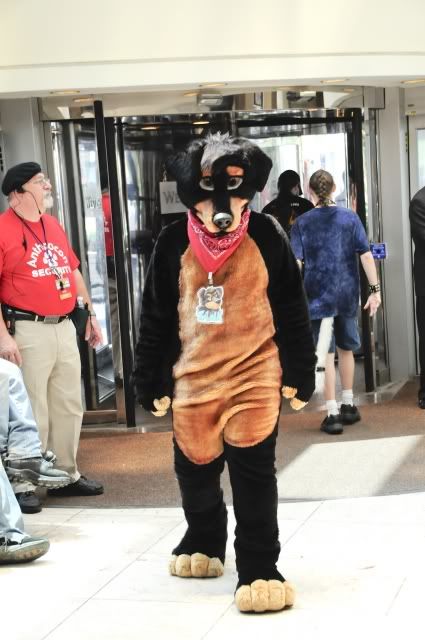 There have been improvements to my suit from FWA to AC. Mostly the Airbrushing of the body suit. Makes him look a lot better in pictures.
I posted an intro here, but i found, that out of suit I am 6'3" and in suit i reach about 6'7"